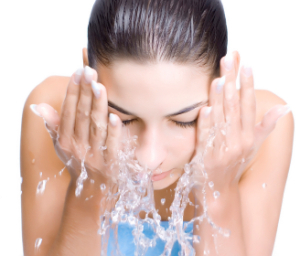 Ever confused by all the anti-aging skincare products on the market? How do you know which one is right for your skin? What do all those scientific words mean anyway? I've compiled a list of ingredients that are commonly used in anti-aging skincare products and in their advertising so you know what specific ingredients to look for. This is by no means a comprehensive list, just a few common terms we see often in skincare marketing. As an over 40 woman, be on the lookout for these four keywords  in packaging —Antioxidants, Hydroxy Acids, Peptides and Retinol. You should be using products with some or all of these ingredients.
Vitamin A is most commonly found in retinol products. It's anti-aging benefits are vast; Retinol & Retin-A help to smooth the skins surface, improve wrinkles, tone and are extremely effective in fighting acne. Retinol can be found in lots of over the counter products in varying amounts. There is some controversy about whether these small amounts are effective. Retinol is also available in prescription strength from your dermotoligist. May not be suitable for sensitive skin.
Antioxidants: Protect your skin cells from free radical damage caused by environmental stressors like UV rays, pollution and smoking that cause wrinkles and dullness with a strong antioxidant. Don't just buy the newest antioxidant on the market because it is getting a lot of buzz, make sure you choose based on efficacy. Legit antioxidants: CoffeeBerry extract, idebenone, and vitamins C and E.
Argeline: is the trade name for Acetyl Hexapeptide-3, a synthetic anti-aging cosmetic ingredient derived from natural proteins. It is a peptide; a chain made up of amino acids. Argireline's purpose is to decrease the visible effects of aging by reducing the deep wrinkles and 'expresson' lines that occur around the forehead and eyes.
Alpha-Hydroxy Acids (AHA): The common forms of the AHA's found in alpha hydroxy skin care products are glycolic acid, lactic acid, tartaric acid, citric acid and malic acid. Alpha Hydroxy Acids are highly effective anti-aging ingredients that can be found in a wide range of skincare products. AHA's are used most often as an exfoliant and come in several different strengths. Alpha hydroxy products will increase your skin's sensitivity to the sun so be sure to use your sunscreen liberally! If sensitive, use in small amounts–less than 10%.
Alpha Lipoic Acid: Preliminary anti-aging treatment studies on alpha lipoic acid indicate a great deal of promise as an effective antioxidant which can repair sun damaged skin, provide protection to the skin, diminish fine lines and wrinkles, improve skin tone, and decrease large pores. Included as an active ingredient in many combination moisturizing products.
B-Beta Hydroxy Acids (Salicylic Acid): Proven clinically as effective as the AHA's, beta hydroxy acid or BHA is an exfoliant that also improves skin texture, tone and acne. It is generally considered to be an alternative to AHA, and particularly beneficial for oily skin types as it cleans congested pores especially well.
C  Coenzyme Q-10 (Ubiquinone): Promising preliminary research indicates C0-Q10 is an effective antioxidant that repairs sun damaged skin, energizes new cell growth, posesses firming properties, and smooths skin. CoQ-10 is extremely reasonably priced, like the Nivea line which is readily available at most drugstores. 
Collagen: Promising preliminary research on collagen indicates increased skin hydration, firming and plumping properties while improving fine lines and wrinkles. A word of caution, formulations need to be very specific in order to allow for adequate absorption into the skin.
Copper Peptides: Promising preliminary research demonstrates qualities that include firming properties, enhances the skin's protective ability, an antioxidant, healing properties, stimulates collagen formation, improves the skin's elasticity, and promotes elastin production. Neutrogena has a line of Copper Peptide products.
Vitamin C (Ascorbic Acid): Clinically proven in stable versions, Vitamin C increases collagen production, has powerful antioxidant properties, healing properties, reduces fine lines and wrinkles and minimizes scars. L-Ascorbic Acid is also widely considered to be an effective form of vitamin C which the skin can absorb in a stable version of 5% concentration. L-Ascorbic Acid is often used in conjunction with hyaluronic acid to assist in effective absorption. Do not layer with Copper Peptides as the combination will nullify the effect of both products. Simply use each anti-aging treatment at a different time of day.
D  DHEA: Not clinically proven effective as a topical cream although it is believed to improve skin texture. This is a growth hormone which is typically taken as a nutritional supplement.
DMAE (Dimethylaminoethanol): Although anti-aging treatment studies on DMAE have not been extensive, the results demonstrate positive rejuvenating effects in skin firming properties, the reduction of fine lines and wrinkles, improving moisture content, and in improving sagging skin.  Good results with DMAE are found when used in combination with vitamin enriched anti-aging ingredients.
E  Vitamin E (Tocopherol): Clinically proven effective as an antioxidant, improving the skin's moisture content, skin protection properties, smoothing, and healing properties. A product's ingredient description should state 'high-potency' E.
F   Ferulic Acid:  A compound found primarily in plant cell walls. It is a potent antioxidant most commonly found in combination with Vitamin C & E, but may have skin benefits even when used alone. Also, the addition of ferulic acid to the combination of vitamins C and E appears to increase protection from UV-induced skin damage. In one study, the addition of ferulic acid to a vitamin C + vitamin E formula almost doubled the UV-protection benefits. The topical combination of vitamin C (15%), vitamin E (1%) and ferulic acid (0.5%) has been patented by SkinCeuticals corporation and is available as a commercial product from SkinCeuticals.com and many retailers. If purchasing this product, make sure to check the expiration date and preferably store the product in a refrigerator tightly closed.
G  Glycolic Acid: A good all-around acid for normal-oily skin types to exfoliate the skin. More harsh than lactic acids. An alpha hydroxy, (AHA), most often used in chemical peels that penetrate the epidermis only. Helps to diminish fine lines and hyperpigmentation (sun spots).
Green Tea: Preliminary results are promising, indicating reduction in puffiness, diminishing fine lines and wrinkles, reducing large pores, decreasing inflammation, an aid in healing, and as an antioxidant. Achieving sufficient concentrations of greenf tea are questionable in topical creams. A variety of tea based active anti-aging ingredients are used in many combination moisturizing products.
H   Hyaluronic Acid: Clinically proven effective for diminishing fine lines and wrinkles. Hyaluronic acid occurs naturally throughout the skin and joints of the body and is meant to cushion and lubricate.  Hyaluronic acid attracts and binds water within the cells of the skin and tissue underneath, literally acting like a sponge to Absorb 1,000 times its weight. It is used to retain a supple, firm skin tone and youthful appearance. Changes can be seen in as little as 30 minutes and last up to six months or even longer depending upon the method of delivery, duration of use and formulation. Restylane and Juvederm are injectable hyaluronic fillers for the skin. Hyaluronic Acid is commonly found in moisturinzing serums and creams.
Hydroquinone: Clinically proven to effectively bleach age and dark spots as a skin lightening ingredient for hyperpigmentation (dark spots). Look for concentrations of 1% to 2% in over the counter products, a prescription is needed for anything over 2%, the maximum concentration being 4%.
K  Kinerase and Kinetin (N6-Furfurladenine): Preliminary anti-aging treatment studies are promising – decreases wrinkles and fine lines, improves skin tone, and retards cell aging, although Kinerase creams can be quite pricey. Not as potentially irritating as Retinol or Vitamin C. A potential alternative for sensitive skin or for an intensive skin rejuvenation treatment around the eye area. Look for concentrations of .1%.
Kojic Acid: Clinically proven effective as a lightening treatment for skin pigmentation problems as it inhibits melanin (brown skin pigment) production. Often used as an alternative to hydroquinone.
LÂ  Liposomes: Preliminary studies indicate effective skin rejuvenation by improving skin hydration, reducing fine lines and wrinkles, while improving skin texture. Typically referred to and utilized as an agent to convey nutrients and such directly to the skin cells. Lipsomes are found as a component of many anti-aging treatments to facilitate the delivery of active anti-aging ingredients through the skin layers and directly to the cells.
Lycopene: Only preliminary studies completed for topical anti-aging effects as an antioxidant that can improve skin texture. Most commonly used in diets to build antioxidant protection.
Lactic Acid: Lactic Acid is a non-irritating rapid exfoliator most often used in chemical peels. Benefits are: loosens and removes the surface debris on the skin, deep cleans pores, softens fine lines. Extremely effective at stimulating natural collagen production for a fresh, moistened look. Lactic acid peels are great  for mature and sensitive skin.  An AHA derived from milk, and milder than glycolic acid,  Lactic acid is typically better for working on hyperpigmentation problems. Appropriate for normal, dry, or oily skin. Often used in chemical peels, it is a good all around peel for the beginner. 
M  Melasma: A dark skin discoloration that appears on sun-exposed areas of the face. Melasma doesn't cause any other symptoms besides skin discoloration but may be of great cosmetic concern. A uniform brown color is usually seen over the cheeks, forehead, nose, or upper lip. It is most often symmetrical (matching on both sides of the face).
P  Palmitoyl Pentapeptide (Matrixyl): A peptide that signals your skin to produce more collagen. Only preliminary studies have been conducted for rejuvenating results that stimulate collagen production, improve skin elasticity, repair sun damaged skin and diminish wrinkles. Sufficient concentration is necessary to produce results, although non-irritating. Â An excellent alternative to potentially irritating retinol treatments.
R  Retinol (a form of Vitamin A):  Retinol, a component of vitamin A, is known for its amazing ability to dramatically improve the appearance of skin. It is mostly used to smooth away wrinkles, decrease fine lines, even out rough spots and bring back a natural color and tone to the skin. Retinol is available in lotions, creams, oils and serums. However, topical retinoic acid often causes skin irritation and other side effects, which limit its use, especially in sensitive individuals. It is recommended to start off with a low concentration and use every other day until your skin adjusts. Products with Retinol make your skin more sensitive to the sun, so ALWAYS use sunscreen when using a Retinol product.  As always, consult your dermatologist before starting any skincare regimen.
T  Tretinoin (Retinoic acid- Retin A / Renova): Tretinoin is a form of Vitamin A that is clinically proven to have significant effective results for anti-aging treatment and skin care issues. Although available by prescription only, results range from the reduction of both wrinkles and fine lines, increasing collagen production, smoothing skin texture, increasing skin thickness, improving elasticity, improving acne, exfoliation, improving overall skin tone, diminishing mottled pigmentation and increasing skin hydration. This is the strongest of the all the Vitamin A's and can be very irritating to the skin. Products with Retinol make your skin more sensitive to the sun, so ALWAYS use sunscreen when using a Retinol product.  As always, consult your dermatologist before starting any skincare regimen.
Resources:
www.skincareresourcecenter.com/anti-aging-ingredients.html
http://www.makeupartistschoice.com/index.php?
http://www.smartskincare.com