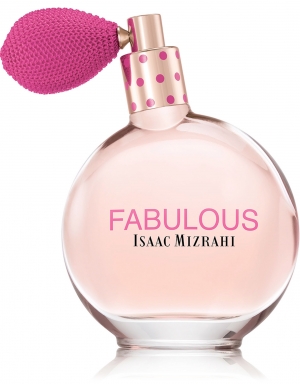 The inspiration for Isaac Mizrahi's first perfume was his memories of sitting at his mother's vanity while she spritzed herself with jasmine, tuberose and sandalwood scents. It's no surprise then that all these notes ended up in his new eau de toilette, Fabulous. If you've ever watched Mr. Mizrahi on QVC or Project Runway All Stars you know that he used the adjective "fabulous"–a lot.
A sensual and timeless scent, FABULOUS captures the essence of Mizrahi's native New York and the juxtaposition of beauty and confidence often seen on the city streets that have long inspired him as a designer. This wonderfully feminine scent encapsulates Isaac's desire to make a woman feel like she does when she puts on an evening gown, like she's stepped into a fantasy.

"Creating a fragrance feels like the last piece of the puzzle," said Mizrahi. "I've been designing clothes, accessories, housewares – everything for a woman's lifestyle – for nearly thirty years. FABULOUS is my opportunity to offer women something to identify with on a whole other emotional level."
The composition is floral – fruity and opens with intense bergamot, mandarin and nectarine that was quite strong to my nose and the alcohol smell was a bit overpowering too. Thankfully this dissipates quickly and the heart notes make their appearance.  Tuberose, jasmine, freesia and peony add the feminine, sexy vibe to the scent while the more earthy character is provided by the base of sandalwood, cedar and vanilla. I can't smell the juice on myself but I got two compliments as I walked into the office. One co-worker said our entire cubicle area smelled good so the sillage must be fairly strong. So many celebrity fragrances are sickeningly sweet or absent of any complexity or dimension. I do appreciate the more sophisticated tone here.
The bottle design is inspired by Old Hollywood. It has a vintage spray atomizer and the bright pink shade adds charm with a girly vibe. If you notice, the neck of the bottle is slightly off-center for a touch of whimsy.
Isaac Mizrahi Fabulous is available in 50 and 100 ml Eau de Parfum. It will debuted on QVC in September and launched in Bloomingdales in October.
Bottom Line: Initially I wasn't very impressed, but I may have changed my mind with all the compliments I've been receiving! With the Makeup Gods as my witness, someday I will create my own perfume!!!!!
What do you think? Girly and feminine or overdone?