What goes together better than a push-up bra and a little black dress? red lips and stilettos? Makeup and jewelry, that's what! This holiday season several cosmetic and fragrance companies are offering a little bling with their usual suspects. These make great gifts if you can stand to give them away!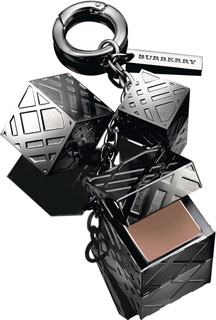 Burberry Lip Charm Keychain ($85) A Nordstrom exclusive, the key chain comes with one cube filled with Nude Beige lip gloss, the other cubes are empty. It may be a must-have if your a Burberry fan.  For those of us who want to mingle our beauty products with jewelry and not spend close to an entire Benjamin, read on.
Tarte's Ring It In Cheek Stain set ($25) is nothing short of adorable. It contains Tarte's best selling, t5â"¢ infused natural cheek stains in three new limited edition shades. The set also includes an adorable reusable ring. The blendable, botanical formula keeps pigments truer while keeping skin fresh and dewy while fighting free radicals and promoting cell regeneration.
The three new shades are:
Luster: bronze champagne
Vivid: vibrant pink
Flawless: golden coral
Tarte's ring it in mini cheek stain and reusable ring set is available at tarte.com, Sephora, Sephora.com, Beauty.com, Ulta, Ulta.com.
Daisy Marc Jacobs Solid Perfume Ring ($40) Big bold cocktail rings and soooo in this season and so fun, especially if your favorite perfume is hiding underneath! A gentle twist of this oversized ring opens to reveal Daisy solid fragrance. Like the scent itself, this accessory is sophisticated with a touch of whimsy. Available at Sephora.com
Lola Marc Jacobs Solid Perfume Bracelet ($42)Ummm, the scent of Lola; Pink Peppercorn, Pear, Grapefruit, Rose, Peony, Geranium, Vanilla, Tonka Bean, Musk dangles from your wrist all day–divine! The bracelet; playful and fun. Available at Sephora.com